Extreme BMX stunt show for your corporate event entertainment, state fairs, and more. . .
BMX Pros BMX Stunt Show is dedicated to providing the most thrilling, exciting, and professionally run BMX show money can buy.
With a wide range of equipment designed to execute our BMX stunt show at a variety of venues including County Fairs, Corporate keynotes, or NBA & NFL Halftime shows, our ramp equipment is easily set up and transported. If you need it there fast, we even have ramps that can load onto a plane. Having the professional entertainment of the BMX Pros BMX Stunt show as part of your special event will certainly add a touch of class and excitement to your roster.
Having professional BMX stunt show at your event should leave a lasting impression. With over 70% of our clients having us return year after year, we guarantee that the job will get done right. Our BMX Stunt Team leaves a positive and lasting impression with your spectators long after the show is over.
The BMX stunt show features the world's most extreme bicycle stunt riders in a spectacular, non-stop, action-packed show that can feature our Half Pipe and/or Quarter Pipe accompanied by our box jumps. Our BMX bike show has entertained millions of people around the world.
Book Now
X-Games Championship Talent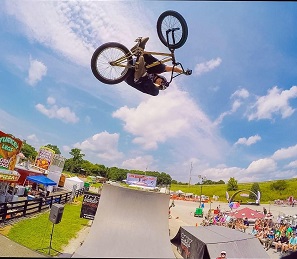 Anywhere in the United States, the BMX Pros Stunt Team will bring to your venue the same championship talent that competes in the X-Games. This crowd-pleasing event is definitely a must see to believe BMX stunt show attraction that will amaze your audience. We also provide schools nationwide with a great School assembly program